St Martin's Low Marple Heritage Trust
St Martin's Low Marple Heritage Trust exists to preserve and make known the artistic heritage of St Martin's church, a Church of England church in Marple, which lies within the Metropolitan Borough of Stockport in the Greater Manchester area.
St Martin's is a parish church in the liberal Catholic tradition of the Church of England. It was founded in 1870 by a local family who, influenced by the Oxford Movement and the ritual revival in the Church of England, wished to establish a church where Anglo-Catholic ceremonial would be observed. To create a worthy setting for this, the church employed prominent architects and designers over a period of fifty years. The church now stands as a treasury of work by artists in the English Arts and Crafts Movement. It is a Grade II* Listed Building, and thus of national significance. The Trust hopes to gain wider recognition of the artistic worth of the church, and to make it more accessible to the local community.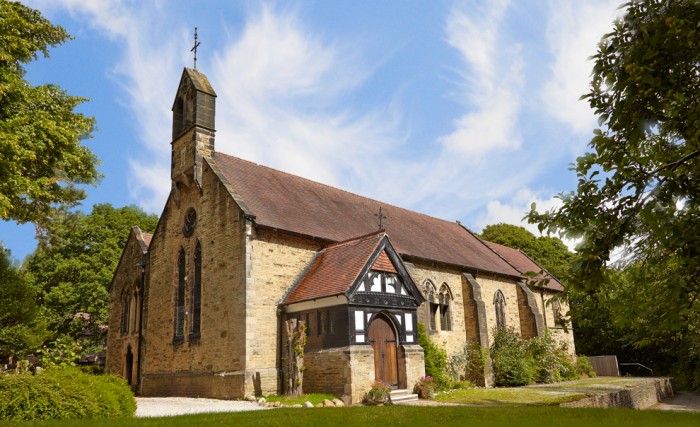 The Church will open on Saturday 10th and Sunday 11th November 2018 between 1200 and 1500 as part of The Stockport War Memorial Art Gallery Memorial Trail. Details of this initiative can be found here. The Henry Wilson bronze relief Memorial in Church features on the Trail and although this takes place outside our usual opening window, this year we will open over the Remembrance weekend and, by arrangement, on request over the period to 24 February 2019 when the Memorial Trail initiative ends. Please contact us through this website using the Contact us link if you wish to visit Church in this period.
More details about the Wilson masterpiece can be found here.
17 November 2018: Afternoon Study Session led by Anthony Burton entitled The Arts and Craft Movement. This promises to be a very interesting afternoon. Click the button for more information but please note that we ask that you contact Ann Sayer in advance so that we can organise catering for the afternoon tea.