The Trustees are appointed on fixed terms and a number will be stepping down over the next 1-2 years on completion of 2 terms since the Trust was founded in 2014. The Trustees are therefore looking to appoint new Trustees to take on the running of what has become a very vibrant and successful charitable trust. If you would be interested in becoming a Trustee and want to find out more about what it entails please contact Michael Newton, the Treasurer of the Trust.
St Martin's Low Marple Heritage Trust
St Martin's Low Marple Heritage Trust exists to preserve and make known the artistic heritage of St Martin's church, a Church of England church in Marple, which lies within the Metropolitan Borough of Stockport in the Greater Manchester area.
St Martin's is a parish church in the liberal Catholic tradition of the Church of England. It was founded in 1870 by a local family who, influenced by the Oxford Movement and the ritual revival in the Church of England, wished to establish a church where Anglo-Catholic ceremonial would be observed. To create a worthy setting for this, the church employed prominent architects and designers over a period of fifty years. The church now stands as a treasury of work by artists in the English Arts and Crafts Movement. It is a Grade II* Listed Building, and thus of national significance. The Trust hopes to gain wider recognition of the artistic worth of the church, and to make it more accessible to the local community.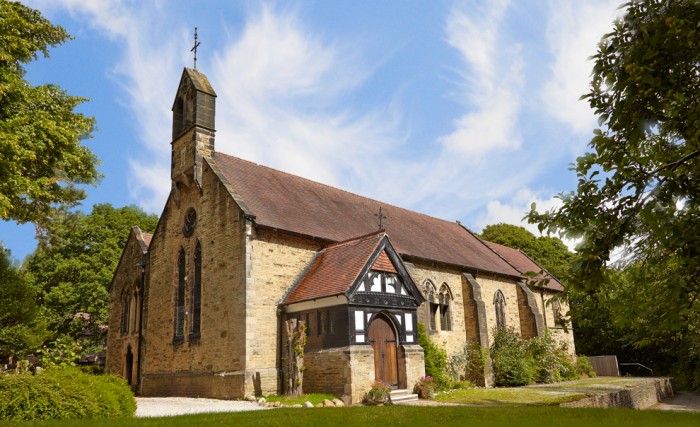 We have a number of events taking place later this year and are also looking forward to 2020.
Saturday 7 September 2019
Visit to the exhibition "John Ruskin: Art and Wonder" at the Millennium Galleries, Sheffield.
Saturday/Sunday October 26th/27th 2019
Curated by Rev Ann Hyde, an exhibition in Church of artworks by various community groups taking inspiration from the stained glass window on the east wall depicting Christ in Majesty.