History and Heritage of St Martin's Church
Founders and patrons
In 1866 Mrs Ann Hudson inherited from a cousin Brabyns Hall, a small manor house in the Goyt valley below Marple. She moved in with her daughter Maria Ann and her granddaughter Fanny Marion. Ann Hudson founded St Martin's church within her grounds: a temporary iron church opened in 1867, and a permanent nave and chancel in 1870. Maria Ann added the Lady Chapel in 1895, and Fanny Marion added the north aisle (Christopher chapel) in 1909.

Left to right above: a young and an old Ann Hudson, Maria Ann Hudson and Fanny Marion Hudson.
The nave and chancel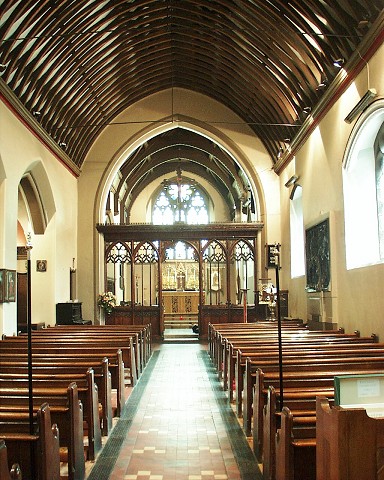 Ann Hudson commissioned the first plans from Edmund Sedding, an architect with Anglo-Catholic connections. He had trained under George Edmund Street, a prominent Gothic Revival architect whose best known work is the Law Courts in London; and he set up his own practice in Penzance. After Edmund's sudden death in 1868, his brother John Dando Sedding (1836-91), who had also trained under Street, and had joined Edmund in his practice, took over the designing of St Martin's.
J. D. Sedding was at the beginning of a career which saw him emerge as one of the leaders of the Arts and Crafts Movement in Britain: he was Master of the Art Workers Guild 1886-7. He was principally an ecclesiastical architect, but also designed some significant houses. By the time of his death, he was one of a number of architects experimenting with a new type of Anglican church which allowed for greater congregational participation (e.g. his major work, Holy Trinity, Sloane Street, London, 1888-90), but in 1870 he was still following the conventions established in the 1840s by the ecclesiologists. He was largely engaged in his earlier years in church restorations, and reacted with unusual sensitivity to old buildings as he found them; hence, he was not hidebound by convention. From the first, he was keen to bring into his buildings the best possible craftsmanship. At St Martin's, he provided a church in two parts: the chancel for the celebration of the holy rites, and the nave for the congregation. Thus the ecclesiological expectations of his client were met: but the proportions of the building are restful rather than rigid, as in so many Gothic revival churches.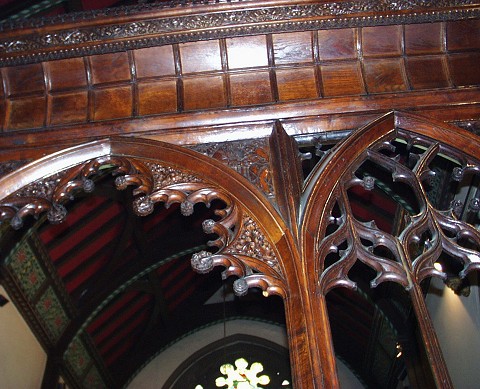 The chancel has, behind the altar, a carved and gilded stone reredos (Sedding designed many reredoses that combine figure sculpture and Gothic architectural features), and a pavement of encaustic tiles. Its wall decoration has been overpainted, but some decoration in the roof has been restored. Sedding took pains with the stained glass, employing the decorative art firm established in 1861 by William Morris (designer, poet, and socialist, 1834-96). Morris himself, Edward Burne-Jones, Dante Gabriel Rossetti and Ford Madox Brown all contributed to the designs for the windows. The main east window (1870) is chiefly composed of single figures against light backgrounds. This is characteristic of the firm's early work, and was a reaction against the more strident colouring and dense design of mid-Victorian stained glass. Parts of this window, however, have deteriorated owing to technical faults in the manufacture. There are two other Morris windows in the chancel (dating from 1873), and these, though small, convey the essence of early Morris glass: The Annunciation (SE window) and the Virgin Mary with St Elizabeth (SW window).
The chancel is separated from the nave by a rood screen. An original painted screen was replaced in 1888 by the present carved wood screen. Sedding took care to commission good woodcarving in his churches, and this screen has some fine naturalistic detail, as well as two small carved scenes representing the Magnificat and the Nunc Dimittis.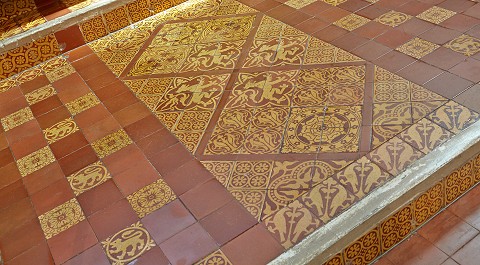 The nave was furnished with pews, probably to Sedding's design, in 1888, and the pulpit dates from about the same time. It incorporates four bronze reliefs by Richard Ledward, and was exhibited at the second exhibition of the Arts and Crafts Exhibition Society in 1889.
In the nave are two stained glass windows designed by Christopher Whall (1849-1924), another important figure in the Arts and Crafts Movement (Master of the Art Workers Guild, 1912). The west window (1892) shows St Martin, as soldier and as bishop. The SW window (1899) shows Jesus's charge to St Peter ('Keep my sheep'). A window near to the pulpit (after 1927) is by Archibald Nicholson, a member of Sedding's and Wilson's circle.
The Lady Chapel
This was added to the church in 1895. Mrs Ann Hudson died in 1884 and Sedding in 1891. Consequently, Maria Ann Hudson commissioned a design from Henry Wilson, who had been Sedding's chief assistant and took over his practice.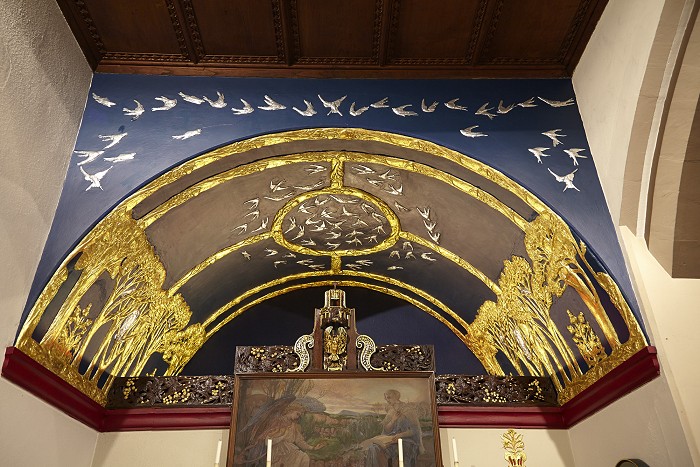 Wilson, though evidently a more reserved personality than the charismatic Sedding, had wider-ranging talents and was open to new developments in European art. He was prominent in the Arts and Crafts Movement (Master of the Art Workers Guild, 1917, President of the Arts and Crafts Exhibition Society 1915-22). His Lady Chapel, while blending effortlessly into the existing building, is distinguished by its unexpectedly enterprising decorative scheme. The altar, with inlaid wood decoration and art nouveau lettering, is surmounted by a retable in which a painting by Christopher Whall (who trained as a painter before turning to stained glass) is enclosed within a carved wooden framework. Above, a barrel vault is decorated with plasterwork by Whall, representing trees, plants and birds. This is similar to work which Wilson and Whall were undertaking around the same time at Douglas Castle, Lanarkshire and Welbeck Abbey, Notts.
The stained glass windows in the Lady Chapel are by Herbert Bryans, a more conventionally medievalist designer (a follower of Charles Eamer Kempe) than Whall.
The north aisle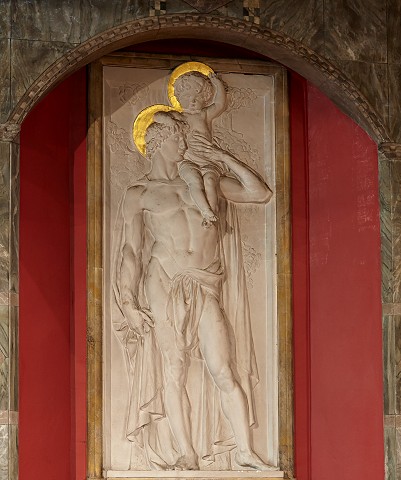 After Maria Ann Hudson's death in 1906, Fanny Marion commissioned, in her memory, a further extension to the church, completed in 1909. It is carefully integrated into the building, and has a panelled ceiling with richly carved bosses. Its main feature is a strikingly dominant relief sculpture in gesso of St Christopher with the Christ Child. Placing a representation of St Christopher on the north wall of a church, opposite the door, was a tradition in medieval English churches. Wilson, who was increasingly turning to sculpture in his later career, gave the tradition an intriguing twist by taking as his model for St Christopher a well-known Renaissance sculpture, Michelangelo's David.
Other work by Wilson
Wilson provided (around 1900) a movable cover for the font which Sedding had provided. The carved and inlaid cover, crowned with a pierced spherical cluster of vegetation (the world?), is suspended from a bracket by a chain which also supports a circlet of stars (the heavens?) and a dove (the Holy Spirit descending?). This highly original feature shows the influence of art nouveau. Wilson also provided (in 1926) a bronze relief sculpture as a war memorial. As in other war memorials by Wilson, this depicts Christ welcoming a soldier to heaven.