St Martin's War Memorial Sculpture
The First World War memorial in St Martin's church is a bronze relief sculpture. Installed in 1924, it was made by Henry Wilson, the architect of the two extensions to the original small St Martin's church: the Lady Chapel (1895) and the Christopher Chapel (1909). Wilson was not only an architect but also a sculptor, goldsmith, teacher and journalist. Wilson at first proposed as a war memorial a sort of shrine in the churchyard. The bronze relief eventually installed in the south wall of the nave is unusual because it does not depict soldiers fighting or dying. Wilson wished to give his war memorials a religious rather than military significance. This one shows a kneeling young man being received by Christ into a heaven thronged with angels and cherubs.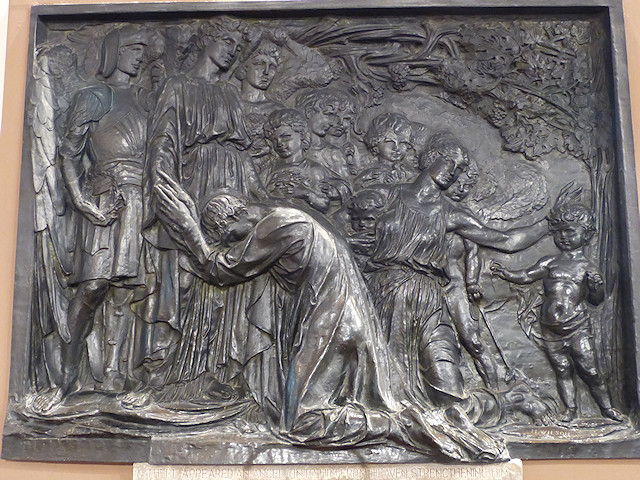 Below the relief is a stone table inscribed with the names of those of the Parish of Low Marple who fell during WWI:
1914 - 1918
Joseph BOOTH
Francis Edward BRADSHAW-ISHERWOOD
George Bowden BROCKLEHURST
John Sidney BROCKLEHURST
Donald Harlow BUDENBURG
Harold Mathews BURTON
Dennis HALL
William Lucian HANCOCK
Harry George HANCOCK
Frank HARGRAVES
Fred Rowland HASLAM
Bernard Harold HARTLEY
Fred HOPWOOD
Walter Bailey HOPWOOD
Robert Denis HUDSON
Francis Reginald HUDSON
Godfrey Burnside HUDSON
Henry Erris HUDSON
Burt MORRIS
Arthur RHODES
Leonard ROBINSON
James Martin RUTTER
Alfred SUTTON
Granville TAYLOR
David TOTTERDELL
Edward YARWOOD
Under that, there is a later tablet showing the names of those of the Parish who fell during WWII.
1939 - 1945
Albert GIBSON John HAZELHURST
Samuel KIRK Cyril A SHELDON
Charles Lucas Arnold MALLETT
For more detailed information about Wilson's design and his other proposal for St Martin's Churchyard click Next.