St Martin's Low Marple: THE WAR MEMORIAL
The memorial at St Martin's is a bronze relief, designed and made (and signed, bottom right corner) by Henry Wilson. It was installed in 1924.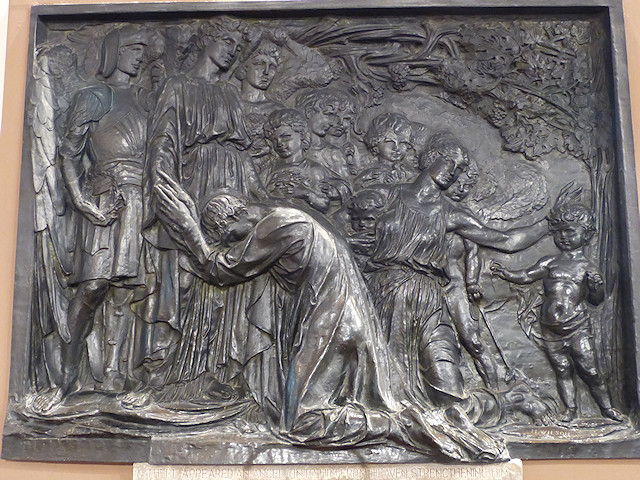 The war memorial is thus described in the standard work on Wilson, Cyndy Manton's Henry Wilson, Practical Idealist, Lutterworth Press, 2009, p.141:
… a bronze wall-panel in bas-relief of Christ receiving into Heaven the kneeling figure of a young man. Behind Christ stands the armour-clad St George, while angels and cherubs congregate beneath a canopy of vines."

This design, unusual in a war memorial, may be compared with a war memorial stained glass window by Wilson in St John the Baptist, West Ashton, Wiltshire, thus described by Manton:

"A youthful, unbearded Christ stoops in blessing and welcome above a kneeling soldier; at the apex hover the dove of peace and 'the [four] angels of the winds'. The young man is wearing armour, but his helmet and sword lie on the ground, his days of fighting – and dying – for his country over."
In designing war memorials, Wilson avoided "boys in khaki, and guns, and all that" and strove to convey, symbolically, reconciliation and new birth. (Manton, p.143)
Henry Wilson (1864-1934) was the architect who designed the Lady Chapel (1895) and the Christopher chapel (1909), as additions to the main body of St Martin's church (nave and chancel), which was erected in 1870 to the designs of John Dando Sedding. Wilson was chief assistant to Sedding and took over his practice on Sedding's death in 1891. Wilson, an artist of extraordinary talent, moved away from practical architecture to teaching (at the Central School of Arts and Crafts, London, and the Royal College of Art) and journalism (he was the first editor of the Architectural Review, 1896-1901). He was notable for his work as a silversmith and jeweller, and late in life concentrated on sculpture.
Note: Doubtless because of the inscription below the memorial, "There appeared an angel unto him from heaven strengthening him" (Luke 22:43), the scene depicted has sometimes been taken to represent Christ's Agony in the Garden of Gethsemane, but this is clearly incorrect. The figure in armour on the left, identified by Manton as St George, has wings, so it is perhaps more likely to be the Archangel Michael – who apparently figures (in golden armour) in a war memorial window (1899, for a casualty of the Boer War) by Wilson at St Giles's church, Stoke Poges, Bucks. (Manton, p.141)
* * *
Another war memorial at Marple?
The Drawings Collection of the Royal Institute of British Architects in London includes a design (below) by Henry Wilson for a churchyard war memorial for St Martin's, Marple. This was intended to be "built of Irish grey limestone, vaulted in concrete. The vault could be overlaid with mosaic. The roof would be covered with cast lead sheets and the alternate panels would be filled with figures of the chief constellations. The whole would be crowned by a figure of S. George." We do not know why this design was not carried out.